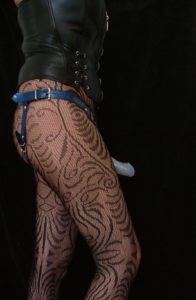 The World's Foremost Female Pegging Expert
Hi, some of you may know me by my nom de plume, Ruby Ryder. I am a Sexinista for Entice Me. I serve Santa Barbara and Ventura Counties, as well as surrounding areas. I have been a sex educator since 2010 and I have extensive knowledge in various areas of sexuality, but especially when it comes to non-toxic, body-safe sex toys.
Recently, I had the opportunity to see what products other adult home parties were offering and I was horrified. I can't imagine caring so little about my customers that I would knowingly sell them toxic toys. When I found Entice Me, I knew it was a perfect fit. Finally, an adult home party business that offers only safe, high-quality products!
My passion is to encourage more sex-positive attitudes in this world. Sex is a source of so much enjoyment for us all, yet so many people aren't comfortable talking about it. You will find that in my webinars, you may ask any questions you may have about sex, because I am comfortable answering them. Whether you are interested in spicing up your relationship, exploring new sexual territories or discovering more about your own pleasure, I would be thrilled to help you!
The more enjoyment I find in my own sexuality, the happier I walk around in life. It affects everything I do in a positive way. I would love to help you find the same pleasure and satisfaction!
For pegging and erotica visit my websites where I am making it a sexier world, one ass at a time:
Pegging Paradise and Pegging 101
I attended the Pegging Equipment Webinar and learned a lot of wonderful things. You opened up a whole new world for us!