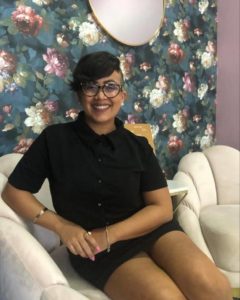 Hola! my name is Arianne Croes-Croes, most people call me Ari for short.
I would like to share a bit about myself and how my journey started and led me to Entice Me.
I was born in Netherlands and raised in Aruba. Growing up on Aruba was a bit difficult seeing that the island is ruled by religion, for men and women to be able to explore their true self is not as easy as it seems. From a very early age I noticed how women has always been sexualized in everything that we did and this really bothered me while growing up.
I had a hard time accepting myself while growing up with my 4 brothers (which makes me the only daughter). Seeing that all my wardrobe were labeled that I want sex. I got pregnant at 19 and got married. Now after 13 years of marriage and 15 years with my amazing partner we have 3 wonderful kids and an amazing connection with life.
Growing up, like most people, the majority is easily influenced by other people's opinion, well at least here on the island it is allot like that. I used to body-shame myself constantly, that it became something I struggled so much with. The shame I grew up with I had no idea how I was supposed to heal from it. So in 2015 I decided with my husband and family to move to the Netherlands and find myself.
Healing myself from the body shaming I had to take myself on a Self-Discovery first because all that I knew about myself was all that I learnt in my lifetime and I identified myself with it thoroughly. Stripping myself from all the titles I had obtained since birth and to see what remained after. It was interesting because I had no idea who I was. I never took this time to really explore all what my true self desired. I realized that I had become a toxic/victimized person in everything I did and I wanted to change.
After this I did a Redefine your Pleasure to get to know what pleasure means for me. It was very interesting doing this process because I was taught that I had to make my partner feel pleasure and never considered my own. Crazy right??
As a kid I always had a weird sensation while playing outside and couldn't explain what it was up to now I discovered as a kid I was playing in a constant joy and blissful state which felt like a total body orgasm. Bear in mind I was no ordinary kid. As a kid my life was always Tantra. And when I grew up all of this vanished because I wasn't living an authentic life like I truly wanted.
After Redefining my pleasure I did a Eroticism and Sexuality, Sensuality discovery and fell in love with myself on a different higher level. Before this, I couldn't see myself in the mirror, ashamed of my own body, my own creation. This helped me to love myself and touch myself as I would want another person to touch me and love me.
I got so inspired by my own journey that I created my own Self-Discovery, Redefine your Pleasure and Eroticism and Sexuality, Sensuality and I created a link with Kizomba(very sensual dance). I created a name called "Kizensual" and started teaching only Ladies Styling classes in combination with meditation and journaling with beautiful Goddesses.
That's a lil bit about me and my journey.
Best Regards,
Ari
Book your party with me!
sacredsistersaruba@enticeme.com